Guy Talk: Here's How to Kick Butt at Talking to Other Men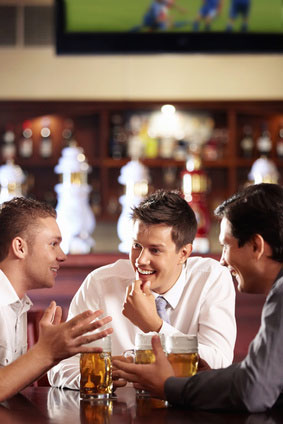 A friend of mine just asked me a question about guy talk; in other words, what he said was:
"

Chase, I've been learning to talk to girls for the better part of 2 years, and I think I've got a lot of it down at this point... but my question is, how do I talk to

guys

?

"
We'd been discussing a few of his quirks: despite me working with him somewhat, he still seems to have a level of tension around him that he often doesn't seem to let go. He always strikes me a though he's trying to make his conversation; trying to "be cool" or "be one of the guys."
And other people have told me the same thing about him.
So, I sat him down to talk about guy talk. It turned out that this friend of mine has what I call a "hierarchical view of the world" - a view I think most people share, but that I don't. What happens to people with hierarchical worldviews is this: they feel intimidated and nervous by those they view as "above" them in the hierarchy.
And thus, they get uncomfortable around men they perceive as "dominant men" or "alpha males."
And thus, like anytime someone gets nervous or uncomfortable, they make mistakes and screw it up.
They try too hard.
They come off insincere.
And as I talked to my friend, I racked my brain trying to figure out if there's a way you can even get around this. A hierarchical mindset is a tough nut to crack - I've tried and failed with friends before.
But if you're uncomfortable engaging in "guy talk" and talking to other guys, is there a way to change that and get good?
The Learning Curve
In 2007, I packed up everything I own in the back of a 14' Budget rental truck and moved across the country. The experience was a nightmare - I swore I'd never rent from Budget again - but it was also one of those wild, memorable experiences you're always grateful for, if not exactly excited about ever doing again.
When I arrived in Southern California, my new home, I had a friend there waiting for me - a guy I'd never met before, named Mike. Mike came highly recommended from a mutual friend of ours as a really intelligent, sociable, and cool guy, and I found him to be exactly this. In fact, I considered him a lot more cool and sociable than I was at the point - I had a hard time keeping up with him.
One night when we were out with his friends, I felt as awkward as I ever had, not quite knowing how to be a part of things. These were California party people - and I didn't fit in.
Mike took me aside that night and said to me, "All my friends are wondering why you can't just chill out and talk to them like normal."
And all I could say was, "I don't know. I just don't really know how to do things right in these kinds of social situations yet. There are too many variables... I just don't really fit in with your friends, I guess."
The incident made me realize that while my abilities with women had improved substantially over the past several years, my abilities with people in general were still far behind.
So, I did what anyone does who wants to master something he's no good at: I threw myself into training up my skill level at guy talk and socializing full throttle.
I went from being a guy with few friends to a guy with many friends.
I went from being a guy who only went out to pick up a girl to being a guy who went out specifically to master the social arts.
And I immersed myself in as many different varied kinds of groups as I possibly could:
Happy hours at work
Business networking meetings
Nightclub after parties
Spanish language courses and the people there
Bartending courses and the people there
Acting classes and the people there
Meetup.com groups doing everything from parties to archery

California party people living by the beach

Mexicans living in the run down ghettos of San Diego
Groups of the upscale and "elite" at the classiest nightspots in town
Groups of the punk / underground North Park at the grimiest dive bars in town
... and I forced myself to integrate with them all.
I had to learn how to blend in. I had to learn how not to judge. I had to learn to keep my mouth shut about my opinions - a friend one night would be singing the praises of drug-culture and women's rights to abortions, and another friend the next night would be on a high horse talking about weak-kneed liberals and his collection of assault rifles and ammunition for when the federal government fell and it was every man for himself.

And most of all, I had to learn how to get everyone from business leaders to hardasses to socialites to punks to aspiring actresses to view me as just like them.
I'd had some experience with this before. After high school I plunged myself into work that saw me working with drug dealers, ex-convicts, and criminals of all sorts. Once in college I'd be back with middle-class suburban kids, and then during the summer and winter it'd be back to managing grizzled 30- and 40-somethings who thought that college was for wusses. I couldn't let on that I had anything in common with those middle class suburban college kids - I had to show them that I was harder than those kids, and didn't care about the stupid things that they did. Otherwise I'd have been dead in the water trying to manage a team of guys like that.
But even with all that training under my belt, I still didn't really know how to blend in and be "normal" with entirely new people when I reached California in mid-2007. Sure, I knew how to look cool and be aloof - but I didn't know how to take command and really hold sway over things.
And what I learned over the course of the next several years of improving my social abilities was how to do just that.
Who's Afraid of Guy Talk?
People like to talk about themselves. It's everyone's favorite topic.
I knew this when I started developing the deep dive. It was a conversational style intended to optimize getting to know a girl in the shortest period of time. As I immersed myself in talking to guys too though, I soon found it had a dual application.
You see, it isn't just women who like talking about themselves. Men like it, too.
But at first, I was too self-conscious around other men to worry about this.
Originally, I felt like I had to show my masculinity. "If I just start talking to guys," I used to think, "what if they think I'm gay?"
I knew I didn't want that happening - the instant a guy thinks you might be gay, his guard goes up, the same as a woman's when she thinks you're hitting on her. So I used to spend a lot of time defusing that, talking to guys about girls, bragging about women, or displaying my prowess with the opposite sex.
But it wasn't a good way for actually building any kind of rapport with a guy. He might think you were cool, or he might just think you were some kind of sex-crazed maniac and want to keep his distance. Either way, this usually didn't result in any kind of friendship or anything.
So, I took a new approach. I decided to drop the "convince him you're not gay" bit and just go straight to building rapport. Your vibe alone should be enough to show a guy you're not gay, I figured - otherwise, you've got bigger fish to fry then trying to get guy talk down.
I read something sometime back - it might've been from Leil Lowndes - that said that a great question to ask someone you'd like to get to know, even if you don't know anything about what it is he does other than what it is (say, if you know he's the captain of a submarine, and you have NO IDEA what that entails) is to ask him this:
"How'd you get to where you are right now?"
So, I started with that. My conversations with guys began to look like this:
Me: What do you do?

Him: I'm a full-time stenographer.

Me: You know, I've heard of that but I've honestly got no idea what it is.

Him: It's a court reporter. I transcribe what's said in court.

Me: You don't say. That's kind of an interesting job to end up in.

Him: I know. How many stenographers do you meet out and about?

Me: I think you're the first. Well, how'd you end up as a stenographer?

The above is a very simple dialogue, but it concentrates a few things I learned about guy talk (or being a good conversationalist in general) over the previous few years:
You want to make detailed, relevant remarks. This is hard to do at first, but gets progressively easier as you do it. So, someone says he's a stenographer, and you say, "That's an interesting job to end up in." Because it is. You don't say that if he says something more ordinary, like that he's an electrician. For that maybe you'd say, "That's a pretty handy craft to know. I'll bet you don't bat an eye when the power goes out." If he says he's an accountant, you say, "Yeah, you seem like an accountant. You have the attention to detail you need to be successful there." If he says he's a football player, you say, "Wow, that's cool. How much more time do you have on your shelf life before the wear and tear starts catching up to you?"

How do you learn how to do this? Simple - you take 2 seconds to think about what someone has just said to you, process it, and say something that not everyone else says. It's important you don't ask routine questions - everyone jokes about doing you a favor ("Oh, you're an electrician? Great - I need help with my cable!" "Oh, you play football - well, you think you can hook me up with a cheerleader?") - but these are awkward and make people feel uncomfortable. Steer clear of asking for favors, even in jest. Make shrewd comments that paint you as an insider instead.


Profess ignorance, unless you're an expert. If I don't know something at all, I tell people that, and ask them what it is. If I've heard of it but don't know it, I tell them. If I know what it is but not much about it, I tell them and ask them more. This drops pretenses and lets people educate you on something, which most people love doing.

Ask about the path there. Similar to what I recommend doing with women - discussing dreams and motivations - you can discuss the "path" men took to get where they are. I don't usually go into dreams and motivations themselves - it has too much of an intimate / seductive feeling, and can freak guys out (or, in some cases, get them, uh, seeing you in a different light, which probably isn't what you're going for here) - but talking about their "path" lets men talk about what THEY like talking about - their feats, triumphs, and achievements.

Once I figured out this process, I felt like a powerful guy.
I'd walk into a room and in minutes the most respected guy there would be viewing me as his new best friend. My boss' boss at work, who'd only met me once or twice, thought I was a prodigy. And my awkwardness in social situations went away, because I could turn anyone I talked to into a friend and ally within minutes of first meeting them.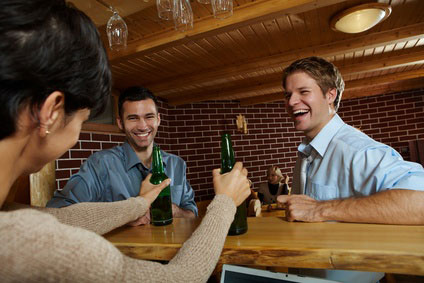 But, I had one advantage that many people lack - and that's that I don't see myself as trapped inside a hierarchy with some men above me and others below. How do you pull guy talk off if your worldview places glass ceilings between you and those guys "above" you?
Hierarchies and Idealists
One of the things I've striven to do since I was a child was to establish an identity for myself completely outside of any category or group. I didn't know exactly why I did that; I just knew I didn't want to be labeled, pigeonholed, or "stuck."
What I later realized was it was a "hierarchy resistance" defense mechanism. By staying outside of categorization, I effectively remained outside the abilities of the hierarchists to place me in one of their hierarchies.
You see, a hierarchy is a man-made construct. It's completely artificial, and is only important to those within the hierarchy. You might view the hierarchy of your company, for instance, with your boss above you and the mailroom guy below you, as supremely important. But to some bushman in sub-Saharan Africa, you and the boss and the mailroom guy are all the same - and in fact, maybe he'd even rate the boss as the weakest of the three of you and the mailroom guy as the strongest, because the mailroom guy is better at throwing a spear farther and catching dinner by himself.
And when it comes to your company, that bushman isn't anywhere in the hierarchy. He could be a nobody; he could be a customer who purchased one of your products; he could even be a secretly wealthy investor in the company with 15% of the shares, who doesn't like to display his wealth and prefers to live in retirement with his extended family in the bush. He isn't a part of your hierarchy and therefore you can't rate him.
Hierarchies go hand-in-hand with idealism, you'll find. A hierarchist views the hierarchies he inhabits as highly desirable hierarchies, and things that have absolute - rather than relative - value.
But the value of a hierarchy is not absolute. It's only valuable to those it's valuable to, and it's not valuable at all to those who don't value it.
You tell me you're a middle manager at Accenture? Okay, great - I'm happy for you. I'm not especially impressed, however. Yet, to someone inside of your hierarchy who's beneath you, that's very impressive. And to someone who's above you - well, just like me, he's also not impressed.
And this gives me a very interesting position outside the hierarchy here. Because what's the difference in reaction to your achievements between someone above you in your hierarchy, and someone outside your hierarchy altogether?
Answer: none. Neither is impressed. And so, depending on how much value they seem to be able to provide, you can end up viewing them as equally as valuable to you.
Here's what I mean: if you meet me and you're inside a hierarchy and I'm not, and you drop some credentials and I'm not impressed, and you start getting the feeling I can help you tremendously in one way or another, guess what? That's right - you'll start acting around me the SAME way you'll act around someone high up in your hierarchy.
This lets me play a little "trick" on the hierarchy folks in the midst of guy talk, you might say - it's not only easy to instantly end up positioned "above" them in their mental hierarchy when you come across as a high value individual who's unimpressed by their credentials, but it's almost unavoidable.
I don't think I could prevent most hierarchically-minded people from feeling a little flustered and "beneath" me if I tried. Despite the fact that I'm not in their hierarchies and I don't view them as beneath me myself.
See how weird it is when people have very different outlooks on things?
Stop me if I'm losing you here.

My personality is geared around being outside of the hierarchy. I discuss this in my post "Ultimate Social Calibration: Stop Climbing the Social Ladder;" and I suggest that anyone interested in generating true social power take this approach too.
Hierarchies are limited because the power you build inside of them is limited. If you scratch and claw your way to the top of a really cool social circle, and then most of the members of that circle disperse - whether it's because you were at college and everyone's graduated, or because you got older and they all got married and stopped coming out - you've got to start all over again.
I can't tell you how many guys I've had talk to me or write to me and tell me, "Dude! I was having the time of my life in college... throwing parties / heading up my frat - I was getting laid like a champ! But now that I've graduated, it's suddenly ALL GONE! What happened?!"
Hierarchy.
When you build your abilities to get what you want independent of the hierarchy, you build a flexibility into yourself that translates across hierarchies.
I can walk into your job where you've carved out a niche by toeing the party line and working hard and impress the socks off your boss' boss, and maybe even get a job. Or at least, make him a good pal of mine, to the envy of you and everyone else at your level. Why? Because I've developed the ability to do so. I've got guy talk; real guy talk. The kind that lets me connect deeply and powerfully with almost any guy I want to.

And best of all, it's not hierarchy-dependent.
Hierarchies limit you. They stand in your way and impede progress. They hold you down from going where you want to go, and force you to waste a lot of time and energy navigating around them or fighting them off.
Instead of fighting the hierarchy though, you should do something completely different: operate around it.
Freedom from Hierarchy?
One of the most curious things I've seen has been the tendency of close friends and family members to try to coax me into a hierarchy, and get frustrated at my lack of desire to conform. In fact, when push comes to shove, every single person I can think of knowing except perhaps two of my friends who did best with girls and two of my girlfriends were hierarchically-minded. It's ubiquitous.
But why do people get so upset when you won't join their hierarchies?
It's because the hierarchy exists for most people at an identity level.
If you're in a hierarchy, you define yourself by your place in that hierarchy. You are your position. But here's the thing: hierarchies are decided by the people in the hierarchy.
In other words, it isn't you who decide who you are... it's the hierarchy.
How trippy is that? No wonder people get pissed off at their jobs, bosses, etc. No wonder they blame them for not "recognizing" them. I never got upset at people not recognizing me - I always assumed I hadn't figured out the right ways to get recognized. But when you're in a hierarchy, you're stuck, and dependent on others to elevate your status.
It's kind of like a social prison cell.
And everybody's looking for a cellmate.
"Come join my hierarchy!" they say. "You should do things the way my group does them! It's fun!"
I start edging away when I hear talk like this from people. It usually comes in the tone of stern explanation: "Look, that just isn't how people do things. Why can't you do them the normal way?"
That's the point where I realize they've started viewing me as such an important part of their life that their identity will be threatened if I don't get on board with their hierarchy and subscribe to it, support it, and believe in it. If I do, they feel reinforced and emotionally validated. If I don't, they feel as though their belief system has been inspected and rejected by someone who they've become increasingly emotionally associated to.

Is it really possible to get freedom from hierarchy?
Honestly, I'm not sure. I've gone back and forth on this; at times, I've thought it must be learned, and able to be unlearned. At other times, I've figured it's got to be genetic, akin to the liberal-conservative genetic component. If you're not familiar with this, there are 6 core moral foundations upon which moral sense is founded:
Care / harm
Fairness / cheating
Liberty / oppression
Loyalty / betrayal
Authority / subversion
Sanctity / degradation
The more liberal someone is, the more they tend to place their moral values on the first 2 of these, and the less they value the remaining 4. The more conservative someone is, the more they tend to value the 6 of these equally. And according to the latest research, these moral valuations are partially, but not wholly, genetically determined.
In other words, if you're a liberal who thinks care and fairness are all that's important and that authority and sanctity and loyalty and liberty are nowhere near as important as those first two, and I'm a conservative who thinks all six of those are important, that's been genetically determined to a degree, and though we might be able to compromise somewhat, in the long run the best we can do is agree to disagree.
So, is it possible to free yourself from a hierarchical mindset?
Nearly everyone I've discussed this with before has responded back to me by saying, "Look, I don't like hierarchies either, but face it: they exist. The world is a place of hierarchies, and you've got to be realistic." Whereas my stance is the opposite; like the bushman and the company, the hierarchies only exist within the minds of those inside that hierarchy, and the minds of those who aspire to join.
I've been anti-hierarchy since birth. I never wanted to be categorized. I can remember being afraid of categorization as a very young child; I am me, I used to think, and I don't want anyone telling me who I am or where I fall in their group.
So it might just be that this is in-built in people. Either you've got the hierarchy mindset and some people are above you and others are below you... or you don't.
And I think, like liberals and conservatives, there might be a degree of that... but I think it's partly learned, too. Which means you can unlearn it and free yourself from the artificial constraints of hierarchical thinking - if you want to, that is.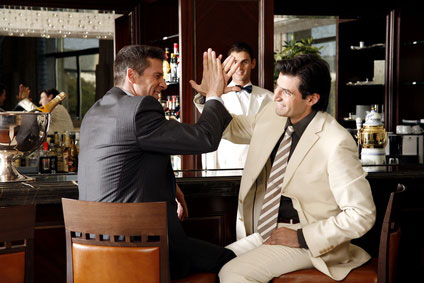 A Few Final Thoughts on Guy Talk
I hope that wasn't a boring diversion into hierarchy mindsets. But I think it's valuable for understanding why some men have a very easy time learning guy talk once they set their minds to it, while others struggle.
The ones who have an easy time just need to get comfortable around enough different kinds of guys and learn the right ways to talk to them.
The ones who struggle are the ones who view themselves inside of hierarchies and consistently place some men they meet above them in those hierarchies and view them as more powerful and prominent than they are, and get paralyzed by their "role" in the hierarchy.
It's interesting to think about the Conquistadors in the pre-colonial Americas. To the Aztec and Inca they encountered, they were almost gods. Undefeatable, from unknown lands across the sea, and suited in unbreakable armor. But to some guy living in the Americas now, armed with a modern semi-automatic pistol, the Conquistadors wouldn't be much of a threat at all.
Hierarchies, like most things, are all relative.
So, to master guy talk:
Make relevant, interesting, specific remarks
Profess ignorance unless you're an expert
Ask him how he got to where he is today

And -

quit worrying about hierarchies, because they DON'T MATTER!
The first three are the technical aspects you need to get connection-forming with men down.
The last one is what you need to get at ease around anyone... no matter where in the "hierarchy" he may fall.
Put those together, and you'll be among the rarest of men - one of those few able to use guy talk to get anywhere he wants to get to with even the most powerful men he meets.
See you 'round the bend.
Always,
Chase Amante
Get Your FREE eBook on Texting Girls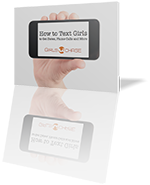 Sign up for our email insights series and get a copy of our popular ebook "How to Text Girls" FREE. Learn more ...
---


Trying to piece together a seduction strategy bit-by-bit, article-by-article, question-by-question? Stop killing yourself doing it the slow and difficult way - and get it all spelled out for you instead, in detail, in exactly the order you need to learn it... with homework, too.
With our complete mastery pick up package, you'll get our 406-page how-to eBook How to Make Girls Chase, our 63-minute long video Spellbinding: Get Her Talking, and 3 hours of audio training - all for less than the price of the book and video alone.
Quit banging your head against the wall - get it now, to speed your learning curve up dramatically... and start really getting the women you want to want you too. You can go right here to get started and be downloading your programs in minutes: How to Be a Pick Up Artist.
Related Articles from GirlsChase.com