Are You Smart? It Doesn't Much Matter Either Way
I had a conversation the other night over dinner with a friend of mine. He confessed to me that he'd had a moment in university where he'd failed a class, and it made him seriously question his smarts. Before that, he'd always had an easy time in classes, always been at the top of his class, and viewed himself as smarter than 99.9% of people. But after... he'd spent the next 10 years or so trying to figure out, if he isn't smarter than everybody else, then what's so special about him?
We talked some more, and he made some comment later about me being "smart." There it was again... this notion of "smarts." And I said this to my friend:
"You know, when people call me 'smart,' I actually find it mildly insulting."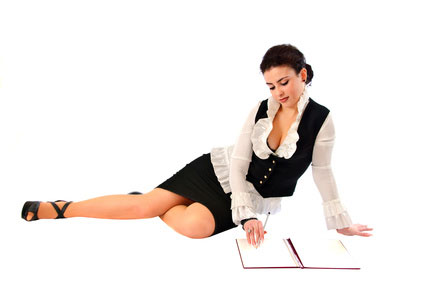 "Well, I'm sorry for 'insulting' you, Chase!" he said, half in jest. And I took a moment to try and define why it is that I feel like "smart" is an insult - and then I realized it.
The feeling for me is that when someone calls me "smart," they're taking away all my credit for having worked hard. It's similar to someone calling you "lucky," or "handsome," or "naturally gifted," or anything else that serves to make it sound like you didn't actually DO anything to get whatever it is you got... you just happened into it by a roll of the dice, or a winning of the genetic jackpot.
I realized something else in that moment though, too - a lot of the things my friend was struggling with, that I didn't struggle with, these mindsets, these limiting beliefs - were coming from the fact that he saw some people as smarter than others, and some people not as smart, and that because of this, what they could accomplish was set in stone.
It's a totally different way of looking at the world from how I look at it, and other people who look first to "hard work," and not much at all to "smarts."
So we talked about this, him and I, and I explained why the answer to the question "Are you smart?" has a lot less to do with your results and success rates than you might think, and why thinking that smarts are essential places a ceiling on your accomplishments - regardless of whether you're brilliant, above average, or square in the middle.
Let's have a look at why.

"The mind is not a vessel to be filled but a fire to be kindled."

- Plutarch
I'm a pretty smart guy, I guess.
I test in the 99th percentile in every intelligence test I take. That, of course, is simply the luck of the genetic draw; there's not much I had to do to get that.
But that doesn't necessarily make me a success. There are plenty of men out there less intelligent than me with more money than me, more accomplishments than me, and more storied lives than me. Will I go on to be successful in my life? That all depends on your definition of success, of course - in the eyes of someone who dreams of traveling the world and starting his own business, I already am; in the eyes of someone who wants to be or already is a billionaire, on the other hand, I'm playing from well behind.
There've been some long-term data analyses that have shown that on average individuals of higher intelligence tend to improve their stations throughout life. e.g., if they start out poor, they end up middle class; if they start up middle class, they end up upper middle class, or wealthy.
So there is clearly a certain inherent advantage to intellect; I don't want to completely play it down. And if you're reading the articles on this site, you're probably someone of above-average intellect yourself (otherwise you'd be over on some 300-words-per-article site reading cliché advice about why you should just be yourself instead).
But there is also one mortal flaw to focusing on intellect, whether you have a great deal of it, an average amount, or even slightly below average.

To understand what that flaw is though, we first need to look at a case study about two different mentalities: smart, and hard-working.
Children in School
In a brilliant 2007 Scientific American article entitled "The Secret to Raising Smart Kids," Carol S. Dweck collected research done on the impact of giving school children differing kinds of reinforcement when young to see what effect, if any, the reinforcement had on their futures.
The study was simple: half of a class, cut evenly down the middle with children from all parts of the grade-earning spectrum and all different socioeconomic / racial / ethnic backgrounds, just to make sure everything was even, would be given one kind of feedback for a year when they performed well on a test, while the other half would be given a different kind of feedback. Here were the feedbacks:
Half of the children would be told, "You did well on this test; you must be very smart."

And the other half would be told, "You did well on this test; you must be very hard-working."
This went on, and the reinforcement continued, the students getting praised consistently on the same quality throughout the year. Half of them kept getting told they were smart; the other half, that they were hard-working.
The impact on their grades? Nothing at all... zip. Zilch. Nada.
Until, that is, about 5 or 6 years later.
What happened 5 or 6 years later, in middle school and early high school?
Well, suddenly, and rather consistently, the children who'd been told that they were smart began to score lower.
And then, as the years progressed, they scored lower and lower than their "hard-working" peers.
It was incredible. Almost unbelievable.
Could a few words of positive encouragement given years before really determine how someone would perform in his or her life to come?
Are You Smart? ... or, Hard-Working?
What the research showed was that based on that early praise, children began to hang their pride on whatever they were praised upon. So,
Children praised for being smart came to get their pride out of showing their smarts and being recognized as intelligent, while

Children praised for being hard-working came to get their pride out of showing how hard they worked and being recognized for that.
And here's where it gets interesting:

The children praised for being smart began to shy away from progressively harder problems and bigger challenges out of fear that they'd fail and prove themselves NOT smart. Meanwhile, the children praised for being hard-working came to relish working on difficult problems, as it was a chance for them to show their quality.

As a result, the children praised for being hard-working actually worked harder, and learned to tear through difficult problems, working progressively harder and reaping progressively greater dividends as they aged and the problems they encountered grew increasingly complex and increasingly more challenging.
Meanwhile, the children praised for being smart withdrew more and more into their shells, shying away from the challenging projects, and only looking for "guaranteed wins" where they could get reinforcement for their "smarts" with lower levels of risk.
This way of thinking completely colored their own predilections toward challenging problems, and how they thought of themselves and their abilities.
But, I dare say it wasn't only their own abilities that these mindsets colored for them.

My friend who thought success a consequence of smarts mentioned how Albert Einstein had a brain with a freakish amount of myelin in it - the stuff that strengthens connections between neurons, which means faster nerve connectivity in the brain, more rapid processing of thoughts and ideas and, effectively, more mental computing power - and he attributed this to asking a lot of questions all the time.
His argument was, Albert Einstein was a success because he made himself smart (by asking lots of questions).
But I wasn't so sure. "Einstein was smart, yes," I said, "But his I.Q. was only 160. That's high, but there are a LOT of people with higher I.Q.s than that with far less impressive accomplishments. Remember that he spent a number of long years really crunching on his theories and shutting out almost everything else; I don't think you can sum up Einstein's accomplishments to pure intellect."
You see, my friend and I disagreed on something pivotal about success not just in ourselves and others; he had been attributing the success of those who succeeded to their smarts, while I had been attributing it to their work ethic.
I use this discusson to higlhight another effect of the "smart vs. hard-working" mentality: the fact that people don't just see themselves as "smart" or "not smart," "hard-working" or "not hard-working;" they define their entire worldview, and everyone they spy through it, via that filter, too.

"It's not that I'm so smart, it's just that I stay with problems longer."

- Albert Einstein
I don't see the world as "smart" or "not smart." I mean, I can recognize intelligence, to an extent; I realize that much of the time when I'm discussing things, most people are not able to abstract and process and analyze as quickly as I can. And I also recognize that, very occasionally, I sometimes meet someone who is lapping me on abstraction and processing and analysis, too. There really are differing levels of intellect between us all.

One of the differences between someone who thinks like me though - someone who attributes success to "hard work" - and someone who thinks like my friend - someone who attributes success to "smarts" - is that I not only attribute my own successes (and failures) to hard work (or lack of it); I also attribute everyone else's to this, too.

In some ways, this is similar to the article on threats and opportunities; it is a different-colored lens through which to view the world.
When I was in university, and my floormates would walk by my room and say, "I never see you working or studying! And we have the same exact classes and you get better grades than me, and I'm studying and working all the time! Why??" I never thought to myself, "I guess I must be smarter than you;" to me, that'd be the incorrect assumption. Rather, I always thought, "Clearly I work harder and more efficiently than you when I DO work." And when I did poorly on a test that other people did well on, I never took that as a sign that I wasn't "smart;" instead, I took it as a clear indication that I didn't do a very good job studying (or maybe I didn't study at all, as frequently was my habit).
I describe myself as a "very efficient worker." I like telling people about how quickly I get things done. When I write articles for this site, I often churn them out in under 3 hours. When I do pickups, they usually don't exceed 3 hours maximum, open to close, and frequently are faster. You'd really have to stretch it to say I write faster because I'm smart, or I pick up faster because I'm smart. Because that's not what it is at all; I worked very hard, and became very efficient.
Why You Don't Want to Be "Smart"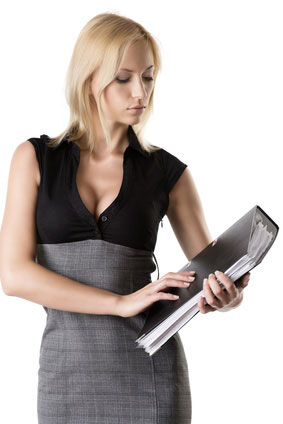 Quick, how smart are you?
Got it?
Okay, good.
Now, in three months, I'd like to see you be much smarter.
Can't do that? Why not?
"Smarts," as most people define them, are not something you can easily improve - in fact, you may not even view them as something that can be improved at all. You're stuck with what you've got when you were born; you're either smarter than someone, or you're not.
You are, as we discussed in the article on guy talk, trapped in another one of those inescapable hierarchies - except this one is universal. Everyone is a member of this hierarchy, and there's no way out of it! You're STUCK! Either you're smarter than them... or they're smarter than you. No two ways about it.
So there you are, trapped in a hierarchy based upon something you cannot change. No wonder intellect is such a sensitive topic for so many people, and no wonder so many fly into a furious rage whenever anyone brings up I.Q.'s or intelligence's genetic roots... these people arguing for environmental factors as if environmental factors can determine raw intellectual power to make them feel like they still have some control over their lives.
Sure thing, environmental factors... just like all those orangutans, gorillas, chimpanzees, and Boston terriers raised in intellectually stimulating environments who went on to win Nobel prizes in medicine!

No, intellect is largely determined. Some people ARE smarter than you and me, and others are not as smart as us. That's just how it is, and you cannot control it, no matter how much Baby Mozart you listen to while you're drifting off to sleep.

However, how hard you work - and how efficiently you work - THAT is very much under your control. And you can even learn more efficient mental processes to make up for whatever raw computing power you lack in the face of someone more naturally "smart" than you.

Hard Work as the Solution
When you see success as being a result of hard work and efficient work, and not smarts, where you get your pride from changes. You begin to feel good about working harder and working smarter and more efficiently, and you begin to actually do those things.
You begin to build processes that make you more successful.
Pinning success on "smarts" doesn't do any of this for you. Maybe it compels you to get more educated in a specific field... but there is one colossal failure point in smarts:
It's not ACTION oriented!
Think about it like this:
Guy #1 wants to become really successful with women, and focuses on getting smart about women and dating

Guy #2 wants to become really successful with women, and focuses on working hard on women and dating
Which of these two guys is going to spend more of his time taking action?
Guy #1 probably spends the bulk of his time reading and thinking pickup. And he hardly ever does it.
Guy #2 splits his time reading and thinking pickup (so he can work more efficiently by learning concepts and shortcuts he didn't know / hadn't discovered yet), and also getting out there and actually doing it (working hard).
Who's probably going to get the results he dreams of, and who isn't?
It's the hard working guy, isn't it?
If you've been thinking about smarts as the key to success, you've been thinking about it all wrong.
The Only Fate is What We Make

A focus on smarts is one of the factors contributing to victim mentality; after all, how can you be in control of your life when the greatest factor determining your success is largely innate and outside your control?
I've found that, in general, people I meet who view smarts as the key to success tend to have more fatalistic attitudes; and I've never met a successful person who pinned his success on intelligence.
Another friend of mine has another opinion: that people attribute success to smarts out of laziness. This friend believes that someone who doesn't want to work hard and be a success sees dismissing success as something that takes "smarts" is the lazy man's way out of it; that way, he can throw his hands up and say, "Well what else could I do? I'm just not SMART enough to be successful!"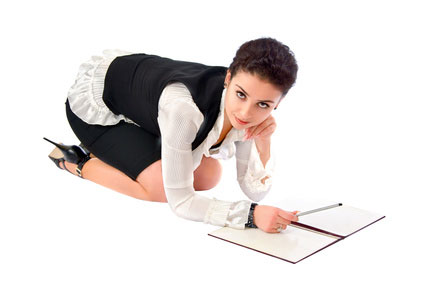 I don't think everyone is this way, but I agree there is a subset of "smarts" people who use smarts as just another excuse (e.g., "That guy's successful because he's smart," "That guy's a success because he got some lucky breaks early on," "That guy's a success because he had a friend who...").
Essentially, if you're a "smarts" person, then you are unable to get the things you want out of life because either:
You really honestly believe you lack the ability that others possess, or

You don't really want those things, and would rather shrug off the responsibility of having to go get them by chalking up others' success to things you don't or can't have, like more smarts than you
If it's the latter... stop making excuses. You can always find SOMETHING to "blame" for another person's success if you want to, no matter what that success IS. Could be their smarts, could be their friends and mentors, could be where they grew up, where they went to school, anything. Maybe they're lucky because they had a wealthy childhood and grew up around the things you want and know them inside and out, and that's why they're successful. Maybe they were strengthened by a DIFFICULT childhood, and armed with grit and salt and determination, and THAT'S why they're successful. You can find a reason for anyone being more successful than you and why you can't be successful too, if you look hard enough.
But you can also find reasons how you too can achieve the same things as them.
Sure, there are limitations. A chimpanzee will never build a skyscraper. And an ant will never decipher general relativity.
But what if your problem is the former? What if you just don't think you have the ability?
Can a man come close to the accomplishments of another man - or meet them, or exceed them - if he truly sets his mind to it?
Working Hard and Working Smart

To me, success isn't just about working hard. I really had this hit home to me in the back of an electric tricycle on the island of Boracay in the Philippines.
Here was this guy driving me in this motorized trike, working his tail off - he told me he worked 14 hours a day, 6 days a week. He'd gone to college before, but he'd had to drop out - he didn't have the funds to continue. So right now, he was making just enough money to get by and to pay for his wife's education, so that she could live her dreams. I didn't tell him, but most of the times I've seen a husband selflessly foot the bill to get his wife educated while he stayed behind, she later left him for someone more educated and more successful than he was.
When I saw this, when I rode in the back of that motorized tricycle and talked to that driver - I'd known it subconsciously for a long time; but I hadn't actually thought about it quite like that... I realized that it's very possible to work hard and still get absolutely nowhere.
It's very possible to work your ass off, but pour that work into something that pays almost nothing.
Like, a beggar. A beggar may work harder for a longer period of time than a guy sitting in a cubicle in an office somewhere, but the guy in the cubicle makes more money because he's working more efficiently and doing work that's more highly valued by society (thus, he's paid more for it). What the beggar provides to society is not that highly valued (some ego boosts for the people who pay him; they feel good about themselves, and are reassured they are good, charitable people - his job is essentially giving them the chance to feel generous in exchange for some loose pocket change), and thus, the office worker is paid more.
At the start of my ebook, How to Make Girls Chase, I take a few pages to talk about working hard and working smart. That's because I want to make sure that before you start using any of this material, you're coming at it from the right angle:
You must work hard, and consistently, and a lot; and

You must make that work productive, efficient, and intelligent.
You do those two things, and suddenly you're finding success easier and easier to achieve.
Why's it so important to do both?
If you don't work hard, you don't get anything done. And if you don't get anything done... then all you ever do is stay right where you are.
And if you don't work smart, you'll get a lot done if you're working hard, but there's a good chance that a lot of it's useless grunt work. Like, working really hard on something that you could've found a much easier way that would take you 5% of the effort compared to what you were doing before and be done in 2% of the time.
When you put the two of those together, and you work hard and smart, you end up with a winning formula for success.

Priding Yourself on Hard, Smart Work
If you read the articles on this site, you'll see plenty of examples of me talking about how hard I had to work to get to this point, or reach that point.
You won't see anywhere that I talk about myself as just "having a gift" or "just being smart," or anything like that. Because I don't see anything that way.
Show me a successful inventor, or business magnate, or actor, or singer, or model, or author, or CEO, or politician, and I'll show you a guy (or gal) who works really, really hard and who is very, very efficient in the work he (or she) performs.
How do you come to pride yourself on:
Working hard? and
Working smart?
Part of it is simply positive reinforcement from authority figures and others you look up to.
But what about beyond that? What if you don't get pride out of hard work, and instead still have a lot of your ego wrapped up around "being smart" or being something else that you can't change and can't control?
There's no easy answer, but I suggest surrounding yourself with people who have an ethic along the lines of what you're in the process of conditioning yourself to have - that is, people focused on working hard, and working efficiently.
There's a lot of research showing that you become like the people around you. Obesity spreads epidemically among friends - they've put together networks that model it. Is obesity caused by a disease? No - it's all about habits and mentalities. Same with fatalism, or optimism - even as simple a thing as hard, smart work.
So... are you smart enough to do the things you want to do? To get better with girls, redesign your life, break free of the 9-to-5, or whatever else you have on your wish list?
Turns out, that's not even the question you ought to be asking yourself. The right question is,
"Will you work at it enough?"
Well... will you?
That is the question.

Chase Amante
Get Your FREE eBook on Texting Girls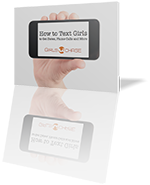 Sign up for our email insights series and get a copy of our popular ebook "How to Text Girls" FREE. Learn more ...
---


Trying to piece together a seduction strategy bit-by-bit, article-by-article, question-by-question? Stop killing yourself doing it the slow and difficult way - and get it all spelled out for you instead, in detail, in exactly the order you need to learn it... with homework, too.
With our complete mastery pick up package, you'll get our 406-page how-to eBook How to Make Girls Chase, our 63-minute long video Spellbinding: Get Her Talking, and 3 hours of audio training - all for less than the price of the book and video alone.
Quit banging your head against the wall - get it now, to speed your learning curve up dramatically... and start really getting the women you want to want you too. You can go right here to get started and be downloading your programs in minutes: How to Be a Pick Up Artist.
Related Articles from GirlsChase.com